Wines Around The World - Last Stop: East Coast
June 9 2023 | 6:00 PM
601 Rosemont Ringoes Rd., Sergeantsville, NJ 08559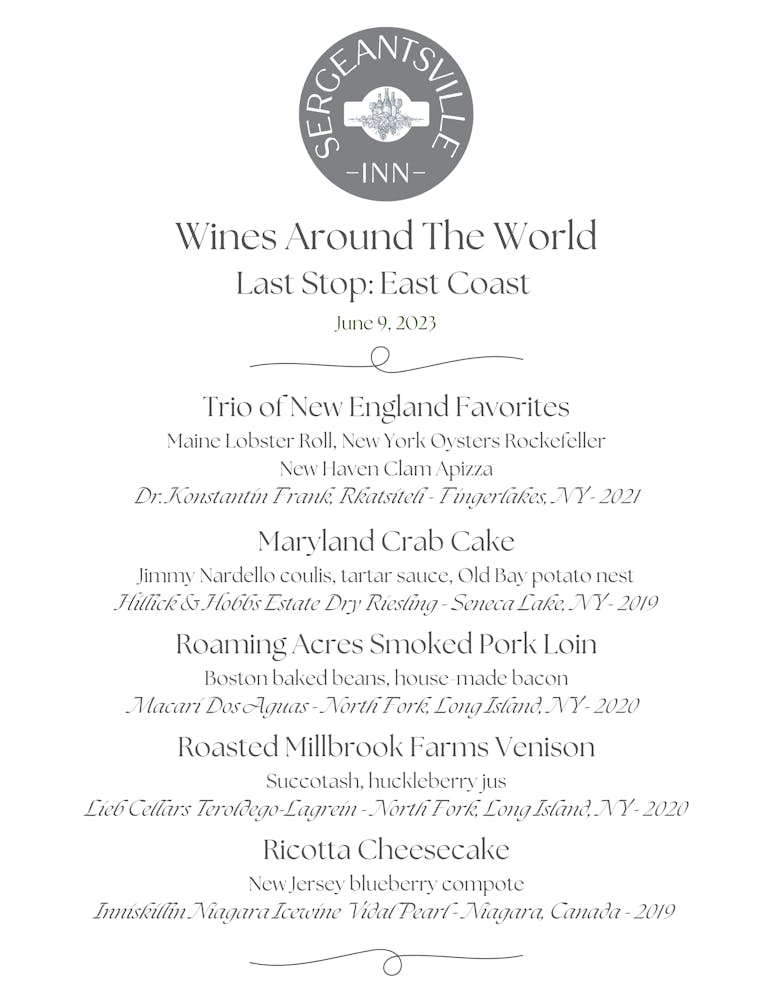 On June 9, we will be heading to the final destination of our monthly wine dinner series featuring wines from all over the world. Let us take you around the world to explore wines, food & service styles from Europe, South America, and the United States. Each month we have featured a new region and our final stop is close to home: the East Coast.
The dinner will be five courses with wine pairings curated by our Sommelier, Nick Kanakaris, to highlight cuisine and winemaking from up and down the east coast. Chef Daniel Brunina will present each course, and Nick will be your tour guide throughout the evening, educating you about the wines and their makers. Tickets are available at the button below for $135 per guest before tax.
There will be six dinners in the series celebrating France, Italy, the Iberian Peninsula, Patagonia, the West Coast, and the East Coast. At your first dinner, you will receive a passport which will be stamped for each dinner you attend.


* Join us for four of the six dinners and receive a gift card to the Inn for $50. *

* Join us for five dinners and receive a bottle of wine from the region of your choice. *

* Join us for all six dinners and receive a gift card to the Inn for $100. *